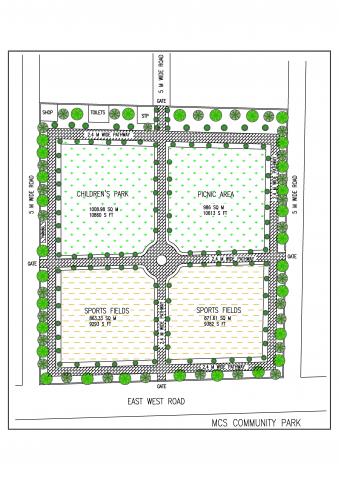 Hare Krishna. Dandavat pranams. Srila Prabhupada kijaya.
On behalf of the Mayapur Community Sevaks, we are very happy to announce the launch of the development of a new community park for the Mayapur community residents.
ISKCON Sri Mayapur has very generously allocated 1.4 acres of land, free of cost, in the Abhaynagar area for this purpose and Mayapur Development Services (MDS) has already done the initial land preparation including a fence, gates and initial tree planting. MDS has also offered to donate the additional trees needed.
Now it is up to us to develop it further so that it can be fully enjoyed by the children, parents and other residents of ISKCON Mayapur.
A general plan has been drawn up, attached to this announcement, showing the plan for how the area will be used.
To begin, there will be a peripheral tree lined walkway all around the area that devotees can use for japa walks and exercising.
Within this the land will be divided into four areas, each about 10,000 ft.². These are:
1. Children's playground with swings, slides, roundabouts and other play equipment
2. A tree filled landscaped area for picnics, quiet gatherings and simple enjoyment of a natural ambience
3. A small sized football field for children and youth (not for adults or older youth)
4. in additional playing field for volleyball, basketball and an area for outdoor exercise equipment
In one corner of the park there will also be bathroom amenities and an area for purchasing snacks, water etc. The detailed planning is now going on. Also, it is important to note that this is a private park only for the ISKCON Mayapur community and not the general public.
Although the land is in a prime location, it is relatively low land and will need to be filled in order to be usable year round.
The amount needed for landfill is calculated as an average of 5 feet raising in the children's park and picnic areas and 2 foot in the playing field areas. Later, when additional funds are available the playing fields will also be raised up to the same level.
Altogether the land fill will require an estimated 3,200 tractor loads. At current rates between Rs. 800 to 1000 per tractor this will come to at least Rs. 30 lakhs.
In addition, the playground equipment, walkways, landscaping, amenities and infrastructure are estimated to come to another Rs. 17 lakhs
As this will take some time to fund raise the project is planned to be developed in phases.
• Phase 1 – developing the walkways and children's playground and leveling of the playing field areas – Approx. Rs. 17 lakhs (11 lakhs for land fill)
• Phase 2 - developing the picnic area, amenities, additional play equipment and completion of the internal walkways - Approx. Rs. 17 lakhs (7 lakhs for land fill)
• Phase 3 – Final raising of the playing field areas - Approx. Rs. 12 lakhs for land fill
Without a doubt the development of this park will be a tremendous asset for all Mayapur community residents, especially the children. Therefore, we appeal to everyone to participate in this project so that it can manifest as quickly as possible.
We especially appeal to the property developers and owners to contribute generously. This facility will go a long way towards enhancing the value of your investment in residence in Sri Mayapur Dham.
Our target is to complete phase 1 before this year's monsoon arrives in June. Now is the best time for completing the land filling and preparing to plant the trees.
All contributions, large or small are welcome. We also encourage pledges for contributions to be given in installments.
Contributions can be made by direct bank transfer to ISKCON Mayapur Treasury (see details below) or by cash against receipt to these MCS representatives:
Nitai Naresh das - +91 96141 59556 or Rama Vijaya das +91 95648 12361
In addition, if you have some experience with landscaping, playground development or any other aspect of this project and would like to volunteer your time, please contact:
Sri Balarama das - +91 80010 89999 or Pancharatna das +91 77970 01098
Please join us in this valuable and important project to serve the children and other devotees of our community. Together, let us manifest a pleasant, natural and joyous enclave for our community.
Thank you for your participation.
Your servants,
Mayapur Community Sevaks
How to Contribute
Contributions may be made by:
• Bank transfer (see details below)
• Cash against MCS receipt through any MCS member
• In-kind (purchase bricks, earth filling, and other needs directly
Please contribute generously.
Bank Details
If the sender is a citizen of country other than India (Including Dual Citizen) –
Account Name: "International Society For Krishna Consciousness – FCRA"
Bank Name: Kotak Bank
Account No: 8512103738
Swift Code: KKBKINBBCPC
Branch: H. B. Sarani, Kolkata.
Bank address: 21, Centre Point Building, Hemanta Basu Sarani, Kolkata: 700001
If the sender is a citizen of only India –
Account Name: "International Society For Krishna Consciousness"
Bank Name: Kotak Bank
Account No: 8512103714
RTGS / IFSC Code: KKBK0006570
Branch: H. B. Sarani, Kolkata.
Bank address: 21, Centre Point Building, Hemanta Basu Sarani, Kolkata: 700001
After remittance
After remittance, please email info@mayapur.com and mayapurtreasury@pamho.net with the following details to track the remittance: Please cc to ramavijaya.mcs@gmail.com
Name of Donor
Country name (for foreign remittances)
Date of remittance
Amount remitted
Purpose: Donation to MCS for Community Park Project
Swift copy of remittance (for remittance from country other than India, sometimes the amount does not show in our bank account, in such case swift copy of remittance helps bank to trace the amount. If the funds show up in bank account then this is not required)